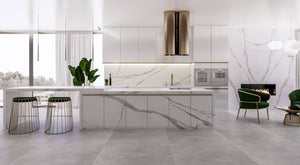 Stone Series
Elegance comes into being out of simple forms, from spaces with no ornaments. This is the premise that hinges on our Stone Series, which adds a neutral and minimalist touch to both homes or commercial environments.
The sobriety of the selective range of colors that makes up this Series, as well as its large formats, offer spaciousness and simplicity to any project. A sophisticated and timeless image that adapts masterfully to different environments and styles. The proven resistance and durability of stone also make it the right choice for both interiors and exteriors.
Organic materials, with their subtle and balanced texture, evoke nature and call for peace and tranquility, proving that stone aesthetics continues to elbow its way firmly into the architecture and interior design industry.
---
4 products