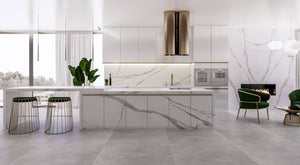 DeluxeQ brings you a wide range of quartz surfaces with beautiful colors and meticulously designed patterns giving you the feel of a natural stone but possessing attributes of quartz. It offers the now of luxury without compromising on quality.
To stay true to our words, we provide you with the best possible polishing quality in the industry with the help of our Breton polishing line.
Size: 129"x65"
Thickness: 2cm, 3 cm
Quartz is an engineered stone product which can be used in virtually any indoor surface location. You can even install quartz on walls and floors. Quartz counters are made of 95% natural quartz granules and 5% resins and colorants. The natural properties of quartz crystals and the engineering process give quartz countertops many valuable benefits and characteristics.

It is highly resistant to scratches, bacteria and stains. Hence, it is perfectly safe for contact with food and very easy to maintain. 
---
11 products