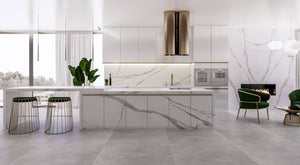 Marble Series
In recent years, marble has panned out to be a top choice in the decoration, interior design and architecture fields, both for its functional aspects and its undisputed aesthetic qualities. It is with this premise in mind that DeluxeTop Marble came to life, an exclusive series of imitation marble porcelains that recreates the unique and special look of this material with a high level of detail.
The eye-popping imitation of natural seams, as well as the variety of chromatic nuances of these large-size tiles, bring a touch of purity and naturalness to every space, creating an incredibly relaxing effect. Their polished and shiny finish surfaces convey cleanliness, beauty and splendor, and make them ideal for generating elegant and glamorous environments.
The competitive prices of these ceramics, as well as their high strength and durability, have made them one of the most sought-after choices for countertops, flooring and wall coverings. The designs range from more classical reminiscences to contrasting combinations with other materials that open up an array of contemporary possibilities laden with style and sophistication.

---
21 products