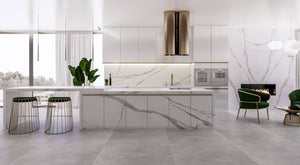 "Elite Surface" is born as a developing container, ready to welcome new inspirations.
A selection of different style atmospheres translates into cultured modernity thanks to the interweaving of the materials and the exasperation of the contrasts. Personalization finds room among the most glamorous materials that nature has to offer. 
From "total black", through shades of grey and brown, to all the whites imaginable, the Elite Surface collection offers different textures in two different sizes that enhance their natural aesthetics and prestige.
Sizes: 48"x48"
Finish: Polished, Rustic Matt
Thickness: 9 MM
---
23 products