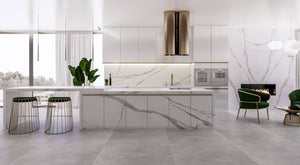 Elite Semiprecious Stones: Nature Carved into Art
Semiprecious stones have always tagged along mankind for that mystical halo that gives them the ability to lure love, health and money, or ward off sadness and bad energies. But beyond their use in jewelry, talismans or amulets, they have also been introduced in the realm of interior decoration, where they stand out for their extraordinary beauty and character.
At BKF Decor Solutions, we have been no strangers to these gems, the absolute stars of the Elite Semiprecious Stones collection. A proposal that rounds up all the magic and perfection of nature, and gives any space distinction and good taste.
With the scarlet shades of Carnelia, ranging from orange to brown, vibrant environments are recreated, full of vitality and energy. While the chromatic palette of Agate, from a range of blues to golden hues, helps to create light spots in the more sober areas, thus adding a touch of style and clarity. 
For relaxing environments, nothing better than Amethyst, with its shades swaying from deep violet to pale lavender; or the softness of pink or transparent Quartz, which always gives a touch of balance and harmony. And what about Amazonite, whose turquoise color evokes the freshness of the sky or the sea, and fits to fill any corner with life?
Nature and art merge in Elite Semiprecious Stones. A collection that bows to elegance, beauty and authenticity.
---
10 products